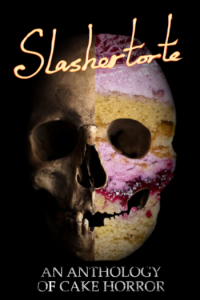 Slashertorte: An Anthology of Cake Horror
Grab your fork and dig in to tales of tiered cakes and teary eyes, plump currants and sinister undercurrents, all-consuming hunger and bizarre gluttony. There's something for all tastes here, though you might think twice before ordering dessert...
Sliced Up Press is delighted to present its debut anthology, featuring sixteen sweetly sinister stories.
Grab your fork and dig in to tales of tiered cakes and teary eyes, plump currants and sinister undercurrents, all-consuming hunger and bizarre gluttony. There's something for all tastes here, though you might think twice before ordering dessert…
With all-new fiction from:
Tiffany Michelle Brown
V Castro
Belinda Ferguson
Douglas Ford
Benjamin Franke
Liam Hogan
R.J. Joseph
Red Lagoe
Madison McSweeney
Jackson Nash
Sam Richard
Kelly Robinson
E. Seneca
Risa Wolf
Nicole Wolverton
Stephanie Yu