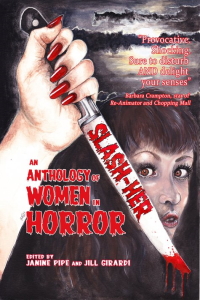 Slash-Her
They are bloody and they pack a punch. Are you ready?
21 women from across the world came together to evoke their inner Lizzie Borden and re-invent the slasher. Some embrace the tropes; others rip them to shreds. These powerful tales are provocative, contemporary and need to be told. Featuring own voices, you will discover the pen is mightier than the machete.
Serial killers, revenge, lust and even the supernatural are just some of the elements in SLASH-HER.
Like the authors, these stories are strong.