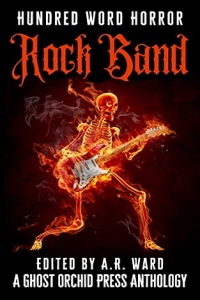 Rock Band: An Anthology of Music-Inspired Dark Microfiction
Here you'll find cursed rock stars, demonic records, and deadly one-hit wonders. Wherever possible, we've listed the song inspiration along with the story, so you can sing along to your heart's content. Just be warned: you'll never listen to these songs the same way again.
Grunge, pop, dance… Whatever your genre, music can be a huge source of inspiration for writing. For this anthology of Hundred Word Horror stories, we challenged a band of talented writers from around the globe to write a horror story in just one hundred words. The only stipulation? It must be inspired by a song.