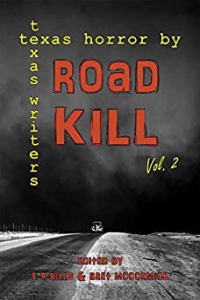 Road Kill: Texas Horror by Texas Writers Volume 2
The second volume of the critically acclaimed Road Kill Series from Eakin Press, featuring seventeen Texas writers. Some of the writers are established and have been published in a variety of mediums, while others are upcoming writers who bring a wealth of talent and imagination.
A hanging tree takes the law into its own limbs in "The Tree Servant." A mother's love is tested by the walking, crawling and thumb-sucking dead in "Mama's Babies." A famous author lays his process bare in "A Writer's Lot." Not for the faint of heart, this terrifying batch of Texas horror fiction delivers a host of literary demons who will be hard to shake once they get comfortable.