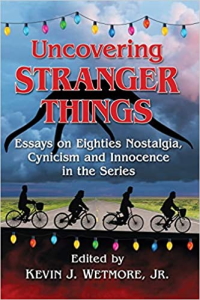 Uncovering Stranger Things
Contributors discuss gender and sexual orientation; the politics, psychology and educational policies of the day; and how the ultimate upper-class teen idol of the Reagan era became Stranger Things' middle-aged blue-collar heroine.
The Duffer Brothers' award-winning Stranger Things exploded onto the pop culture scene in 2016. The Netflix original series revels in a nostalgic view of 1980s America while darkly portraying the cynical aspects of the period.
This collection of 23 new essays explores how the show reduces, reuses and recycles '80s pop culture–from the films of Spielberg, Carpenter and Hughes to punk and synthwave music to Dungeons & Dragons–and how it shapes our understanding of the decade through distorted memory.